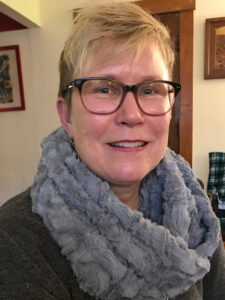 Christina Mersereau is an Author, Videographer and Video Editor, as well as an enthusiastic outdoorswoman and self-proclaimed "bird-nut." Born and raised in Madison, Wisconsin, she relocated to Ann Arbor in 1984 to attend the University of Michigan on a competitive swimming scholarship, where she earned numerous athletic and academic accolades.
After receiving her bachelor's degree from the University of Michigan, Christina plunged headfirst into the often brutal world of the self-employed. During this time period she met producer and audio/video engineer Jacques Mersereau, who introduced her to the world of entertainment production. Working alongside her future husband, Christina hauled and set up gear, and learned the technical aspects of the trade by doing. Her early interests in photography rekindled, she soon worked professionally as a freelance videographer and Avid video editor.
In July, 2004, she completed An Osprey Homecoming, a feature-length documentary, for which she and Jacques won an Emmy Award for Best Photography in the Program category for their cinematography. Christina also received an Emmy nomination in the Writer-Program category for her script. Additionally, An Osprey Homecoming garnered a Finalist Award at the prestigious International Wildlife Film Festival in 2005, beating out entries from NHK, BBC and CBC.
Jacques Mersereau – Award winning Cinematographer, Director, Record Producer, Lighting Designer and Author.
Jacques Mersereau currently has over forty years of production experience and has helped produce and direct hundreds of high quality videos. Graduating from the University of Michigan-Ann Arbor with a B.A. in Communication, Jacques' musical career began in 1981 as a member of the band SLK. The band's original music ignited America's Ska music scene, and SLK headlined shows with audiences in the thousands. The "SLicKs" also opened concerts for The Clash, Peter Tosh, Stevie Ray Vaughn and other legends before their drummer spontaneously combusted in 1985.
Jacques' musical passion enabled him to build a successful career as a professional audio engineer and event producer. His audio engineering is heard on over two hundred fifty albums, including Douglas Miller's "Living on the Top" and The Winans' "Ron Winans and Friends". Both albums received Grammy nominations. Mr. Mersereau is also an acoustic music maestro and has worked as the front of house engineer for the Detroit Symphony Orchestra, the Kalamazoo Symphony Orchestra, the Flint Symphony Orchestra, the Saginaw Symphony Orchestra and the Detroit Montreaux Jazz Festival.
In 2005, Jacques' lighting work for WFUM-TV earned him an Emmy Nomination. Then in 2006, he and his wife Christina Mersereau took home the Emmy Award for Best Photography in the Program category for their videography work in An Osprey Homecoming, the nature documentary they co-produced. An Osprey Homecoming also garnered a Finalist Award at the prestigious  International Wildlife Film Festival in 2005, beating out entries from NHK, BBC and CBC.
Jacques is currently the Managing Producer for The University of Michigan's Digital Media Commons Video Studio; a six-million-dollar sound stage turned into an experimental performance creation space. Mr. Mersereau collaborates with a wide variety of artists – students, professors and professionals – to develop their innovative ideas so they can be brought to life on the stage and then recorded. As one example, only a few years ago the Video Studio was honored to host The Eagles' Glenn Frey (RIP), who came to the studio and turned his world renowned song book into the musical, "Hotel California."
Jacques and Christina recently completed and published their first book in an epic trilogy: "Evil Exists, Book One: The Ring of Solomon." More information may be found at EvilExists.net or on Amazon.com. You may sample and/or buy the book on Amazon using this link.
The couple met in 1989 and were married in 1993 on North Manitou Island, part of the Sleeping Bear Dunes National Lakeshore, and share a love of the outdoors with a deep concern for the environment. They reside in Southeast Michigan